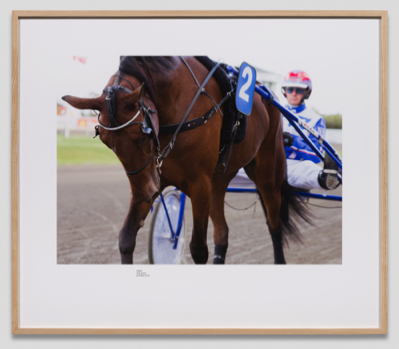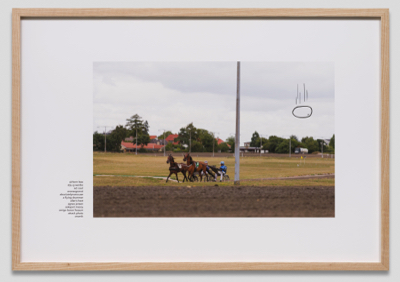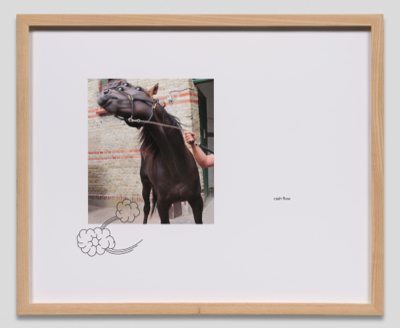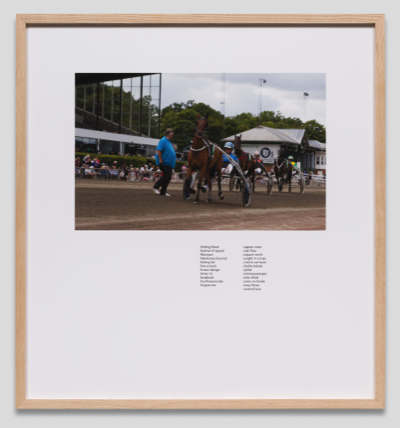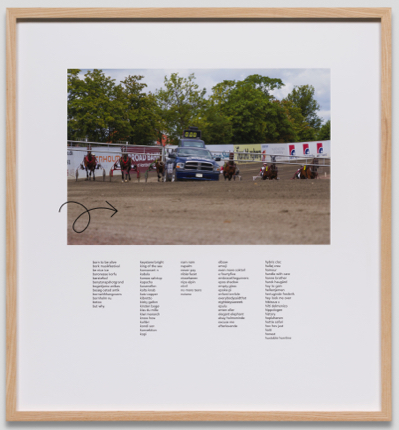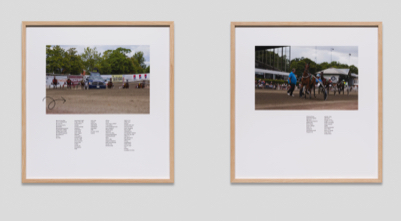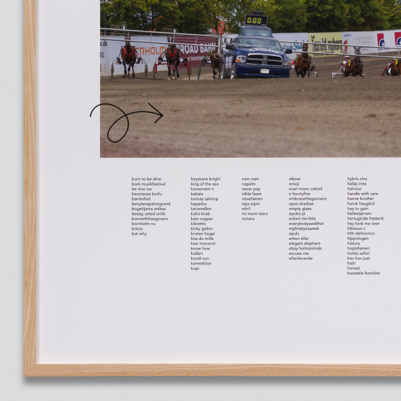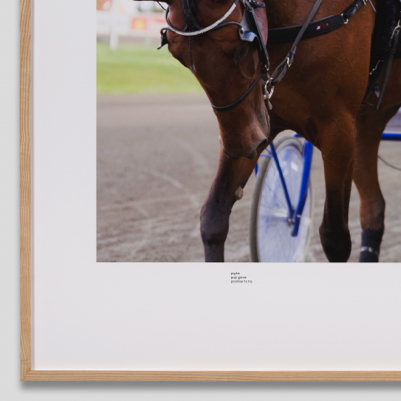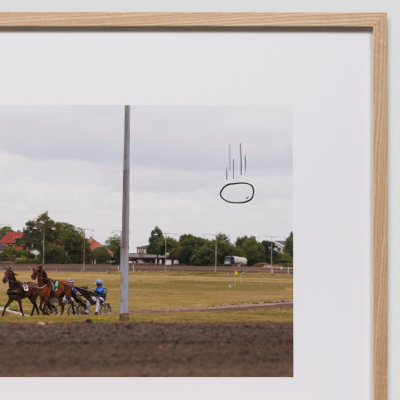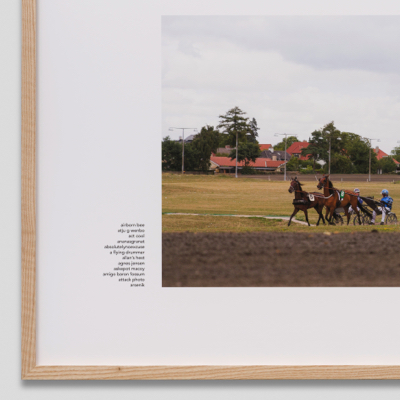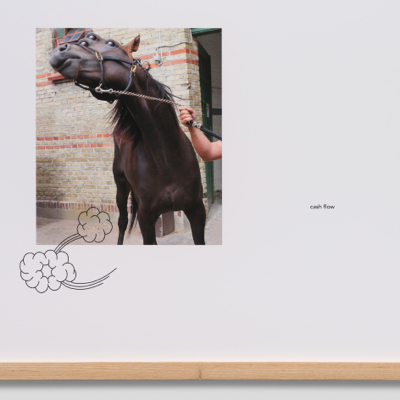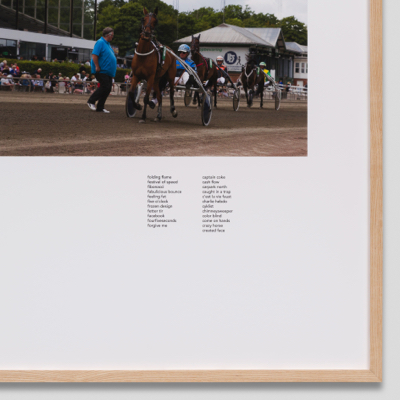 CASH FLOW
Digital print on paper, framed.
47 x 57 cm.
Part of a series of five works.
2019
The works are digital compositions in which photos from Charlottenlund Horse Racing Track and the names of the horses are combined with drawn elements. The names of the horses result form a number of rules and but behave unpredictably, superstitiously and poetically within the framework of these rules:
folding flame
festival of speed
fibonacci
fabulicious bounce
feeling fat
five o'clock
frozen design
fetter tir
facebook
fourfiveseconds
forgive me
The names are approved by "Dansk Travsports Centralforbund" according to the following rules: All horses born in the same year have the same initial. Since the letters Q, X, Y, Z, Æ, Ø and Å are not used, there are 20 years between each A-year. Names must be max. 20 and min. 2 letters. A name can be rejected if it can be mistaken for an already registered name, or if it is deemed inappropriate (eg idiot or similar). However, this seems to be taken with a grain of salt, since names such as Feeling Fat have been approved.
In addition, various factors such as superstition, sponsorships and breeding history play a part in the naming - a horse can thus very well be called E Fourtyfive, eBay Holmsminde or simply Facebook. Whether the latter got its name due to a sponsorship from the powerfull social media giant or because of hopes of extra progress by the power of association, I do not know.
The stock market is often compared to games of chance - bets ​​whose outcome is random. A more obvious comparison, however, is horse racing, which is not considered a game of chance, since it requires knowledge to win. There are, of course, significant differences between the two - despite the many factors that can affect the outcome of a race, the world of horse racing is a small closed system compared to the stock market, where in principle infinite variable factors can affect which shares "win". However, both are complex and unpredictable systems where, in the absence of better solutions to interpret and understand, we often use superstition.
ARSENIK
Digital print on paper, framed.
62 x 89 cm.
airborn bee
atju g wenbo
act cool
ananasgranat
absolutelynoexcuse
a flying drummer
allan's hest
agnes jensen
askepot macoy
amigo baron fossum
attack photo
arsenik
BORN TO BE ALIVE
Digital print on paper, framed.
77 x 72 cm.
FOLDING FLAME
Digital print on paper, framed.
77 x 72 cm.
FOLDING FLAME
Digital print on paper, framed.
102 x 118 cm.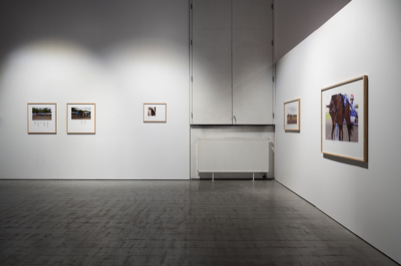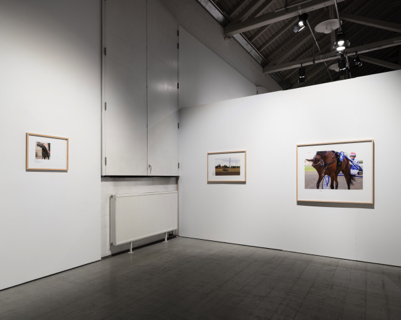 born to be alive
bork musikfestival
be nice ice
baronesse korfu
børstefod
benytsnapshotgrand
bogetijama anibas
besøg osted antik
bornwithhangovers
bornholm nu
botox
but why
keystone bright
king of the sea
konsonant n
kabala
kansas sølvtop
kapacha
karamellen
kalta knab
katz copper
kibretto
kicky gallon
kirsten bogø
kiss du mille
kiwi monarch
know how
kolibri
kondi son
konvektion
kopi
nam nam
napalm
never pay
niblø fazet
nissehønen
nips elpin
nitril
no more tears
nutana
elbow
emoji
even more coktail
e fourtyfive
embracethegunners
epos shadow
empty glass
epoke pi
enfant terrible
everybodysaidthat
eightdaysaweek
epulu
enten eller
elegant elephant
ebay holmsminde
excuse me
efterlevande
hybris cloc
halløj crea
hamour
handle with care
hanne brother
harok haugård
hay to gain
hellestjernen
hertuginde frederik
hey look me over
hibiscus c
hilti delmonico
hippologen
history
hoplahønen
hottie safari
hov hov just
haiti
honest
huxtable hornline
folding flame
festival of speed
fibonacci
fabulicious bounce
feeling fat
five o'clock
frozen design
fetter tir
facebook
fourfiveseconds
forgive me
captain coke
cash flow
carpark north
caught in a trap
c'est la vie faust
charlie hebdo
cyklist
chimneysweeper
color blind
come on hands
crazy horse
created face
psyke
pop game
promise to try