Rose Gold
Wearable sculptures in rose gold-plated silver and Danish 50-øre coins. Edition of 35 + 5 artists editions. Ring measurements (on photo): 2,2 x 2,2 2,1 cm. Dimentions variable – all sizes available on request. Earring: 2,1 x 5,7 x 1,3 cm, 2019.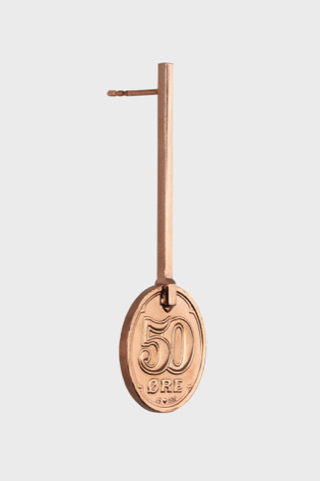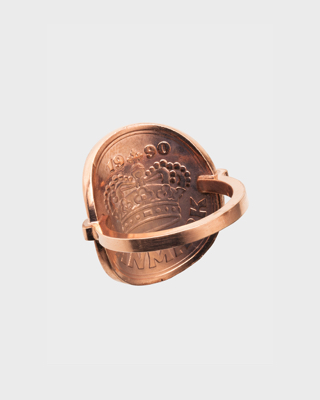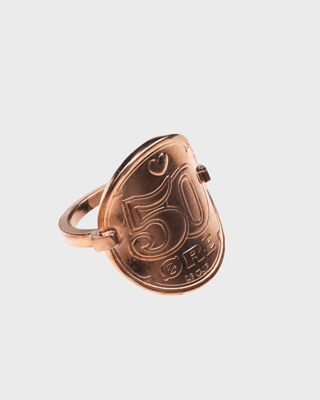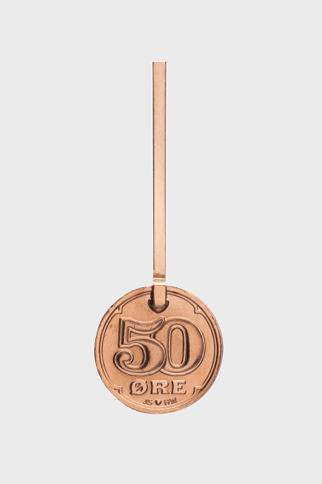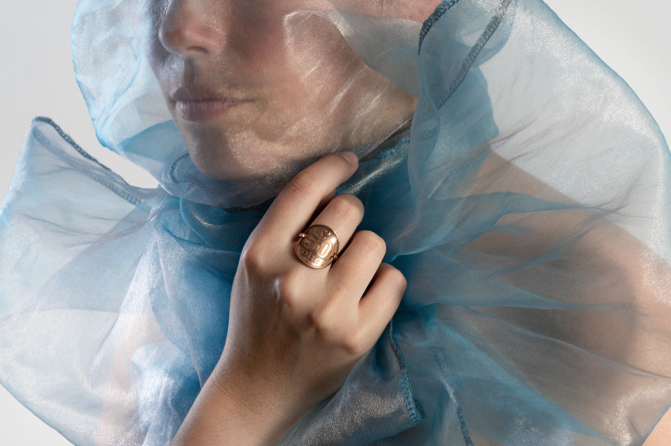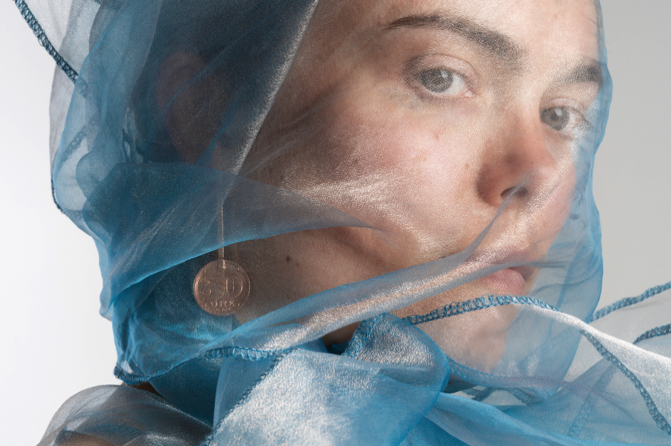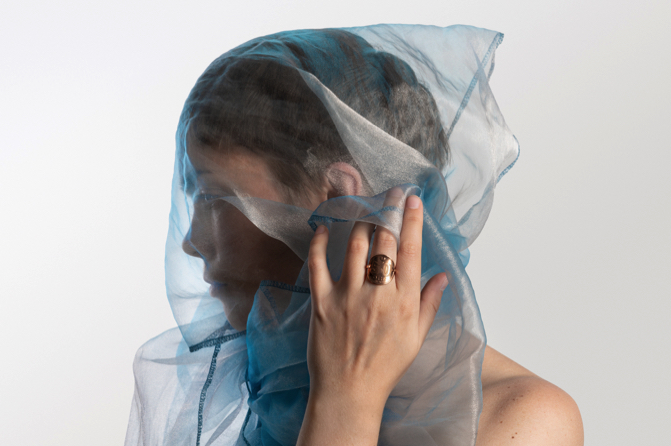 Photo by David Stjernholm
Worn in the performances Pengeinformationer and
The least valuable Danish coin, the 50-øre, is used in this wearable sculpture as the jewel in a ring and a set of earrings. With its play on the valuable and the worthless, the work comments on norms and status in relation to the body.
Money, and coins in specific, have something dirty about them despite the value and function they are given in society. They become dirty from handling, and parents tell their children to wash their hands after touching money, just like after visiting the toilet. But money is also considered unclean in the figurative sense, for the same reason sex workers are labelled as unclean: They are not untouched – on the contrary.
After the Danish 25-øre was phased out in 2008, the 50-øre has been demoted to the least valuable coin in the Danish monetary system. Using the 50-øre in a piece of jewellery, which is on top of that a work of art, increases its value manyfold and points to its capricious relationship to value. Money is: materialized value, small pieces of moulded metal, bits of paper with ornaments. It is also: simple, vile, tasteless. Never worth the same at two different points in time. Something we don't talk about. Something banks create out of data. Money is: the debt of the money users to the banks.
Previous versions of the work have been used in the performance pieces Pengeinformationer, performed in Axel Towers, Copenhagen, 2019 and in P-p-p-pengene, performed in The Stock Exchange in Copenhagen, 2020 and iat Statens Værksteder for Kunst in 2021. A version of the work has been made with Norwegian 50-øre coins and is part of a series of photographic works titled Yours, exhibited in Heimdal Kunstforening, Norway, 2020. The photographs show a man in different everyday situations at home and in public – he wears the jewellery while drinking coffee, relaxing in his home, and shopping for groceries. The flashy jewellery, which on the one hand can symbolize value, profit and status, and on the other hand is linked to an idea of femininity, puts the man's status at stake, makes him vulnerable.
Rose Gold
Wearable sculptures in rose gold-plated silver and Danish 50-øre coins. Edition of 35 + 5 artists editions. Measurements: 2,1 x 5,7 x 1,3 cm, 2019.
P-p-p-pengene in 2019, 2020 and 2021